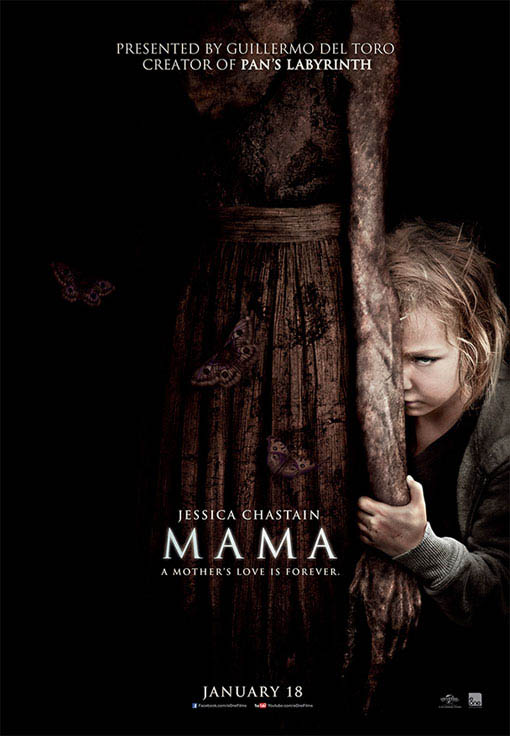 Mama (2013)
Starring: Jessica Chastain,
Nikolaj Coster-Waldau, Megan Charpentier,
Isabelle Nélisse, Daniel Kash
Summary:
Annabel and Lucas are faced with the challenge of raising his young nieces that were left alone in the forest for 5 years.... but how alone were they?
My Thoughts: I must say that I love Guillermo Del Toro's work and this does not fall short. Since that summary explains shit really about the movie, I'll give you a little plot summary. So two girls, Lily and Victoria's father shoots and kills their mother, and you don't find out why, which is a bummer. And he drives them off into the woods into a cabin in which then he tries to kill them, but something...or someone...grabs him and we never see him again. 5 years later, they're found and so Lucas, their uncle, and his girlfriend Annabel start to raise them. But they weren't alone...
And so I will go into the review. The scare factor was up. I mean up, not to 9 or 10, but to at least a 7. I mean I did scream once or twice or maybe 5 times. Then I also, kind of fell out of my seat, but that was towards the end. Don't judge. This movie has a sort of "Woman in Black" feel about it. Especially the motherly ghost thing, if you've seen the movie you'll understand.
I personally love child actors and these two girls are really something. The monster, "Mama", was pretty damn scary too. I must say that, but it would have been scarier if they hadn't showed the monster because towards the end you got tired of seeing her. The scares were really cheap, but they got me, so if you get scared by this sort of thing, like me, it will scare you a lot. But if you don't, then it won't be that scary. Chastain plays Annabel, a hard-core, rocker chick. I really don't believe it for a minute because it's a kind of "tired" role, but towards the end, I do. She's the main character really in this movie, I didn't know this personally, but when I saw it I was surprised, I expected the uncle to be the main role.
So if you go home crying, don't say I haven't warned you.